Certificate of origin
Certificate of origin ST-1 is a document verified by an authorized body (Chamber of Commerce and Industry of Russian Federation) certifying that the product has been manufactured or has undergone substantial processing/recycling in the State – member of Agreement on Establishment of Free Trade Zone, adopted on April 15, 1994.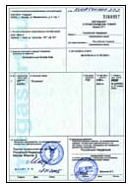 This Agreement includes 10 CIS countries:
- Republic of Azerbaijan, Armenia, Belarus,
- Georgia,
- Republic of Kazakhstan, Kyrgyz Republic, Republic of Moldova,
- Russian Federation,
- Republic of Tajikistan,
- Ukraine.
- + Republic of Uzbekistan
Certificate of Origin ST-1 is required at customs when importing goods into one of the countries of the Agreement.
Therefore, before exporting the product, for example, to Republic of Belarus it is required to issue a certificate of origin CT-1. To export to other countries a general form or form A certificate of origin will be required.
Form A:
Form A Certificate of Origin is used within GSP (Generalized System of Preferences) in the following countries for certain products (respectively, for exports to these countries Form A is issued):
| | | |
| --- | --- | --- |
| Austria | Spain | Slovakia |
| Australia | Canada | USA |
| Belgium | Luxembourg | Turkey |
| Bulgaria | Netherlands | Finland |
| Hungary | New Zealand | France |
| Germany | Norway | Czech Republic |
| Greece | United | Sweden |
| Denmark | Kingdom | Yugoslavia |
| Ireland | Portugal | |
| Italy | Poland | |
The process of obtaining Form A Certificate of Origin is the same as for all other forms of certificates of origin. The only difference is that the data to be included in the certificate must be in English.
General Form Certificate of Origin:
Certificate of origin is a document clearly indicating the country of origin of the product and issued by the body of the state authorized in accordance with national legislation.
General Form Certificate of Origin is issued for exported merchandise to all countries, except those for which form ST-1 and Form A are used.
Tow similar forms are used:
In Russian (for Lithuania, Latvia and Estonia);
In English (for the so-called "faraway" countries - filled in English);
Procedure of drawing this form is exactly the same as for Form CT-1. Annex to General Form Certificate of Origin is issued on a simple A4 paper with the ongoing numbering, seal and signature of the applicant.
You can order Certificates of Origin online or by calling our contact numbers: 8 (812) 339-88-70, 8 (911) 237-77-05